Installing the Moodle Plugin
Using the File Picker Plugin
Once installed, Films on Demand resources may be embedded using the standard Moodle file picker interface.  Any activity or resource elements within a course that includes the Media Button in the HTML editor can now support embedded product content.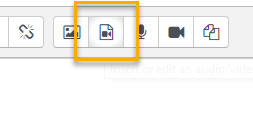 From the course homepage, or anywhere that allows for the addition of an activity or resource, click on the Add an Activity or Resource, while in editing mode.  Select the type of activity or resource you would like to add, for example, an Assignment, or a Page.
From the Insert media pop up LINK TAB, click on the Browse repositories button to view the File Picker interface.  Please note that using the Video tab will not allow the video to display properly.  Only the link tab will work with this plugin.
Select Films on Demand from the left-hand menu to access the search interface.  Enter a keyword or phrase in the box and click Search.  Your search results will resemble the image below.
The search results page offers several functions explained below:
Sorting and Filtering Options:

Filter by Subject, producer, format, source, grades, type, language and copyright.

Pagination - Use the pagination controls at the bottom of the window to skip to other pages of the results.
Run Time - View the run time of all media assets.
Preview - Use the preview link to view the content before deciding to embed it.  Clicking on this link opens a new window on top of the existing window.
Embed - Use the embed button to insert the selected content title into Moodle.
Once you have selected a media file to embed, click on the Embed button.
Moodle will display the thumbnail of the content you are attempting to embed.  Click on the Select this file button and you will be returned to the original Insert media pop up window.  The title of the content you selected will appear in the name field along with the embed URL above.
Click Insert Media to insert this content into the Moodle editor.  In editing mode, the content will appear as a link.
Once you have finished editing your activity or resource, click the Save and Display button at the bottom and the embedded resource will now display.  See example below of an embedded video.