Creating a Class
You have the option to share all different content types with your entire class all at once, Google Classroom or not.

To create an Infobase class, you need to be logged in to your teacher, admin or librarian account. Once logged in, click on Classes from your account menu.
Once your Classes page has loaded, please click on Create Class button from the top of the page.

Fill out the name and the grade level for the class. Adding a description is optional.
Once you click the Create button, you will be brought back to your classes page and will now see your new class that you just created.
Adding Content to your Class

You can add content to your classes by clicking the Add To button from the search results page or the video player page.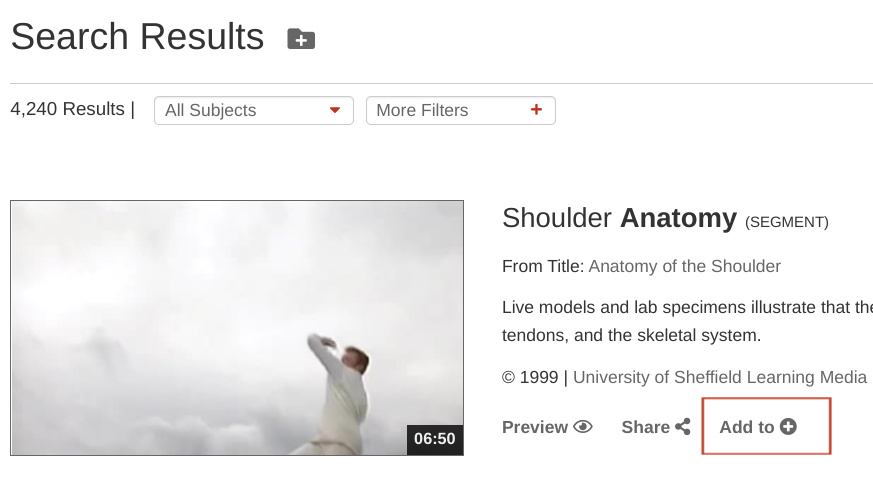 Click on the Class tab to choose the class that you want to add the content to. You can also create a new class from this page.
After pressing the Save button, you will be given the option to go directly to your class to view the new item added.
Inviting Students to Join your Class
Once your class is created, you can invite students to join your class by clicking on the Invite Students button.
Once you press this button, you will be given a code to share with your students so that they can join your class.
Students View and Joining a Class

Once the student is logged in to their account and on their Class page, they will need to click the Join a Class button.

They can now enter the code that was given by the teacher. Once the code is entered and you press Add Class, the class will show up on their Class page.

Editing a Class
As a teacher you have the option to edit your class. From the class page, you can:
Edit the class name

Filter by content type and date created.

View the students that are in a particular class

Invite additional students to the class

Remove the class


Access to your class code